Calvert Green Parish Council aabbs
Calvert Green Parish Council aabbs
OgImage:
Calvert Green

Please see the News tab for local developments

Next Meeting 20th May 2021 at 1930. Virtual meeting Join Zoom Meeting

Public Welcome

Please see News about local developments

Calvert Green

Welcome to Calvert Green Parish Council

Calvert Green Parish Council

Our Mission

To sustain and grow a safe and caring and vibrant community by representing and serving the best interests

of those members who live or invest in it.
You can contact the HS2 Helpdesk on Freephone 08081 434 434 or by Email: HS2enquiries@hs2.org.uk.



Brackley Lane entrance will be closed for 6 weeks from the 26th April 2021.



Please see the News tab for an update on the Prison Consultation.


For Planning applications use the Parish council tab under Noticeboard


You will also find a document on a proposed Solar Farm on the Landfill site


Please email the clerk@calvertgreenparish.co.uk for any queries
Latest Parish News
Council keeping a close eye on the new HS2 concrete batching plant at Calvert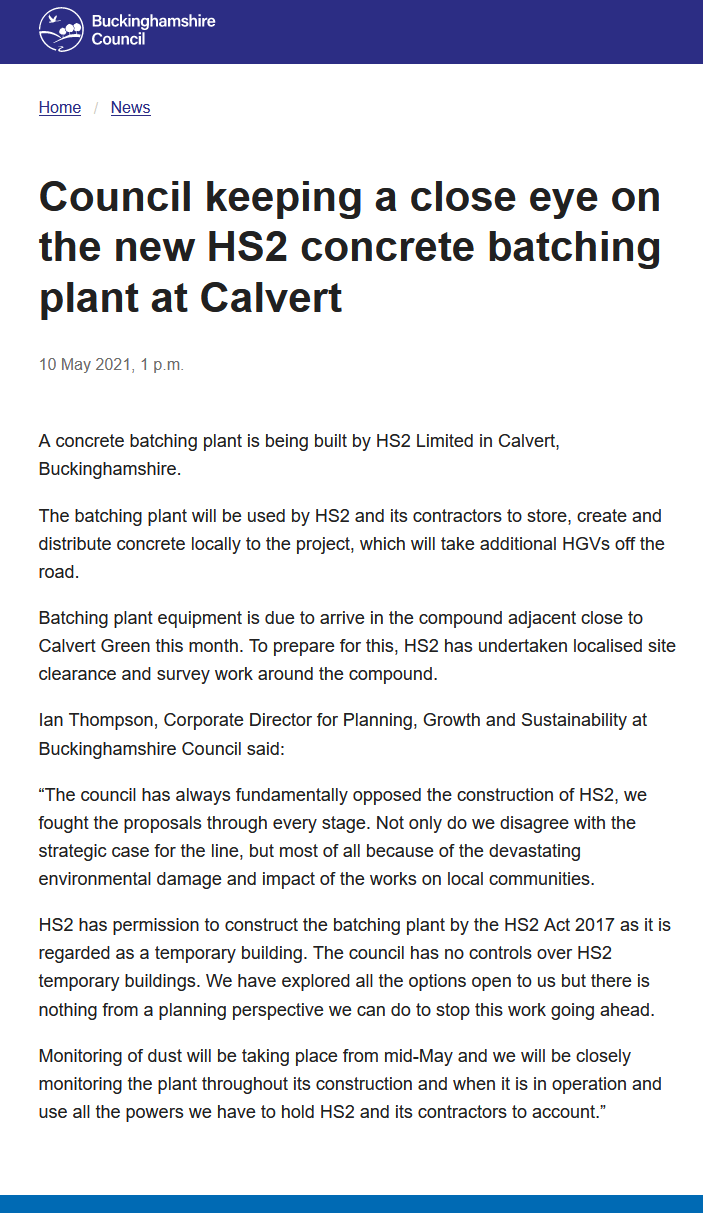 Communities encouraged to 'go wild' in competition to support wildlife conservation

Local residents, community groups and organisations in and around Aylesbury Vale are being invited to get creative and take part in an exciting wildlife conservation competition in partnership with Berkshire, Buckinghamshire & Oxfordshire Wildlife Trust (BBOWT), Chiltern Rangers and the mental health charity Lindengate, the competition is open to individual residents, community groups, town and parish councils and schools. Anyone with an interest in protecting and enhancing local wildlife and environmental habitats. Our area is included in this competition.
Entries can be as small as a window box or container to a larger green space or garden. Entrants are asked to design and create a wildlife habitat around the three core elements needed to sustain wildlife: water, food and shelter.
Ian Thompson, Buckinghamshire Council's Corporate Director for Planning, Growth and Sustainability, explained more: "This competition offers a great way for local groups and individuals to help us work in partnership to enhance and expand our green spaces and gardens as havens for wildlife. We are keen to work with local people to protect existing habitats and create new ones for the benefit of the whole community."
Competition entries of all shapes and sizes are encouraged. Ian Thompson continued: "We're asking people to be as creative and inventive as they can be with this competition, whatever the size of the space you have. Transforming these spaces into welcoming environments for wildlife has benefits for both the natural world but also the health and wellbeing of the whole community."
A range of prizes are up for grabs for different entrants. This includes bird boxes, bug hotels, and membership to BBOWT for residents, tours of College Lake for schools, Lindengate vouchers for parish and town councils and BBOWT training sessions for community groups.
To find out more and register your interest visit the website.
°C

%
mph
FRI
° °
SAT
° °
SUN
° °
MON
° °
TUE
° °